It's estimated that more than half of all U.S. small businesses operate out of someone's home. Housing a business in your basement or using your garage as a warehouse can be a great way to launch a business or save money. But too few home-based businesses and workers are properly insured.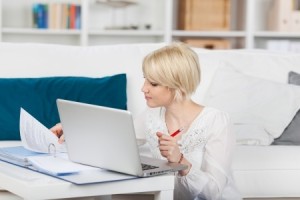 Whether you are the business owner or you're working for someone else, a standard homeowner's policy typically does not include coverage for business property such as office furniture, tools, computers, or inventory. In addition, your homeowner's policy does not provide liability coverage for business operations.
For example, if you're running a home-based business or working at home and a customer comes to your home, trips on your front steps, and is seriously injured, your homeowner's policy may not protect you. What happens if an employee hurts themselves while in your home? What if a fire in your home wipes out all of your business inventory or company-issued computers?
Purchasing business insurance can protect you from financial disaster. Your needs may vary based on the type of work you do and if you have any inventory or equipment at home. And depending on your policy and your situation, you can add your business to your homeowner's policy as added coverage. Or you may need to purchase a separate policy for your business. Either way, we are happy to help discuss your options for this very important type of coverage
Other Resources:
First Steps for Insuring your Home based Business
Small Business Insurance Basics
Business Car Insurance Information