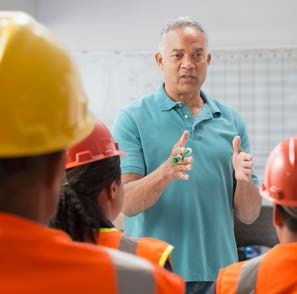 Your favorite sports team does not start the season with a goal to lose games. Similarly, businesses should never have the mindset that near-misses and incidents (accidents/injuries) are just part of life and are to be expected.

Winning a game and preventing incidents both have a lot in common: They both take effort and commitment, and they both have a positive outcome.
Just as players on a team prepare for games by visualizing a win, businesses should start the year or each week with an emphasis on protecting employees and stopping losses. Focusing on preventing incidents ultimately creates a zero-incident vision.
While some teams do lose games, they focus on winning each one and progressively get better. Businesses should also set realistic goals to get better. By continually improving they will develop a culture that can support and maintain a successful zero-incident vision.
KEY BELIEFS TO FOLLOW TO ACHIEVE THE VISION:

All incidents are preventable
Safety is the No. 1 value of your overall culture
Management is committed
HIGH-LEVEL ACTION ITEMS:

Hazards and exposures: Identify what could cause an incident or loss
Controls: Develop and implement the necessary safety controls and actions to eliminate and prevent the hazard
Monitor: Determine if what you implemented is working
Take action: Make the necessary improvements to enhance your controls
EFFECTIVE STEPS TO ASSIST IN ACHIEVING YOUR ZERO-INCIDENT VISION:
Management should lead by example.
Make sure employees understand your safety rules and that safety performance is enforced.
Get employees involved in the process – ask for their input and involvement.
Routinely communicate safety messages and reinforce your safety performance expectations.
Reward safe performance – focus on the positive.
Be proactive to prevent incidents.
Determine root causes if an incident does occur and take corrective action.
Get everyone within the organization committed to your safety culture and the zero-incident vision.