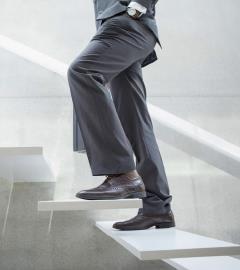 Slips, trips, and falls are one of the leading causes of general industry work-related accidents. Surprisingly, they rank second behind motor vehicles in accidental deaths. They have the possibility to cause major injury to your employees, customers, and guests. You and your Georgia employees can take simple actions to avoid slip, trip and fall accidents.
Statistics:
Slips, trips and falls cause 15% of all workplace deaths (OSHA).
In 2014, slips, trips and falls accounted for 27% of the total lost workday injuries reported (U.S. Bureau of Labor Statistics).
22% of slip and fall incidents resulted in more than 31 days away from work (U.S. Bureau of Labor Statistics).
Main Causes of Slips, Trips, and Falls:
Spills
Walkway surfaces that are in disrepair
Weather-related conditions
Inappropriate footwear
Poor housekeeping
Stairs
Unsuitable floor coverings
Uneven walking surfaces
Low visibility due to inadequate lighting
Human factors and behavioral issues
Prevention Measures:
Have spill kits and warning signs readily available where necessary.
Use slip-resistant floor treatments in areas that are commonly wet.
Ensure entry areas and walking surfaces are properly maintained.
Stow or cover all electrical cords, cables, hoses and other trip hazards.
Wear appropriate non-slip shoes or work boots.
Use handrails when going up or down stairs.
As a regular part of your safety program, perform routine inspection and maintenance of the workplace.
Report and investigate all slip, trip and fall incidents promptly.
Educate your employees on "best practices" for slip, trip and fall prevention.
With winter on its way, it is important that you are prepared for inclement weather. To reduce the possibility of injury, wear proper footwear when walking on snow or ice. Good rubber treads, taking shorter steps and walking at a slower pace can improve traction and balance. Avoid carrying items so hands are free to move for stabilization, and use mats in walking areas subject to water or snow accumulation. Finally, don't forget to salt and maintain walkways and parking lots.
Contact us for a free evaluation of your Georgia Business Insurance. We look forward to working with you!