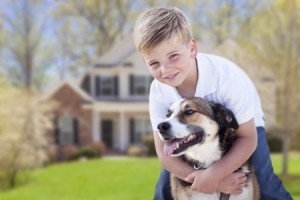 As a homeowner, you're liable if someone is injured on your property. Luckily, some simple steps – and a dose of caution – can go a long way toward avoiding a liability claim. Here are some areas you'll want to pay close attention to:
Your dog. More than a third of all liability claims paid out last year under home insurance policies were the result of dog bites, according to the Insurance Information Institute. The average claim: nearly $30,000. Make sure your insurance company knows you have a dog and what kind it is. And keep your dog leashed, in a fenced yard and out of situations in which it might bite.
Your pool or hot tub. People can slip around water, but more importantly, children can easily fall into pools and hot tubs. Let your insurance company know if you have either one, and take steps to ensure children don't have access to water.
Swing sets and trampolines. Supervise your children and those who visit your property. Consider a fence to help keep neighboring children off the equipment when you aren't at home.
Guns. Keep them under lock and key or in a safe so that no one – child or adult – can gain unauthorized access to them.
Want more information on keeping your home safe? Check out our blog on Home Security.