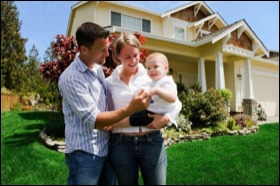 You've selected your dream home and now it's time to get everything ready for closing. The next important decision is choosing your home insurance. Here are some things to consider as you evaluate your options.
How much insurance do you need? The amount you will insure your home for has little to do with its purchase price or property tax valuation. The proper amount needs to completely replace your home if you were to lose it to a fire or some other disaster. That means it should cover the following items:
Any needed demolition
Removal of any debris
Purchase of blueprints
Building Permits & construction requirements
Possible need to grade the lot & pour a new foundation
Enough coverage to rebuild the home completely.
Rebuilding your home based on current Building Codes as required.
Some of the items that will be used to determine the amount of coverage that you will need to carry on your Home are things such as:
Type of home construction.
Where the home is located.
Square footage
Year the home was built.
Age of the roof on your new home.
Number of Stories / Style of Home
Features of the Home.
Improvements made to the home since it was built.
Type of foundation / Basement
Level of interior finishes
Once the amount of coverage is determined, the next few items are calculated as a percentage of the home's value.
Other structures or separate structures coverage is for items not connected or attached to the home. Coverage typically starts at 10% of the home. If you have a nice pool or a guest house, more coverage is likely needed. Some of the items that you need to consider purchasing extra coverage for include:
Detached garages
Fences
Detached Office or Guest House
Garden Shed / Storage
Swimming pools
Outdoor Grill / Kitchen / Bar area
Cabana / Gazebo
Personal property or contents is coverage for everything you will move into your new home. This includes but is not limited to:
Clothing
Furniture
Appliances
Home Décor / Artwork
TV's / Electronics
Children's Toys
Most insurers, in Metro Atlanta, Georgia, begin coverage at 70% of the home's coverage. If you have nice jewelry, original artwork, or a collection of some kind (baseball cards, coins, stamps, guns, etc.) you may need more coverage or specialized coverage.
Loss of use is coverage that protects you financially in the event you have a claim and are unable to live in home while it's being repaired or rebuilt. It provides funds to rent a place to live in while your home is being repaired or rebuilt.
Personal liability protects you in the event someone comes onto or into your property, invited or not, gets hurt and sues you for negligence. Coverage typically starts at $100,000 and usually goes up to $500,000. If your combined household income is greater than $100,000, or falls into certain career categories (doctor, lawyer, architect, business owner, etc.) then we recommend $500,000 in coverage and that you explore an umbrella insurance policy.
Medical coverage is designed to pay for the medical care of a visitor who is hurt on your property. Coverage amounts range from $1,000 to $5,000.
Deductibles are what you as the homeowner pay out of pocket to cover a claim before the insurance policy pays. In Georgia, the most common deductible is $1,000. Many insurers have higher deductibles that can be utilized to lower the over all cost of your home insurance policy premium.
Discounts help drive your premium down. Explore what discounts are available to you including:
Multi-policy discount when you place both your Home Insurance & Car insurance with the same company
Life Insurance discounts may be available.
Umbrella discount
Special discounts for a new roof, a claims-free history & professional affiliations.
Special things to consider beyond your homeowner insurance would be a flood policy if you are near water (creek, river, lake, etc.). Mortgage Companies may require flood Insurance depending on the location of your home. We can discuss if this is needed or advisable.
If you have questions, please call us or send us an email. We'd be delighted to help!