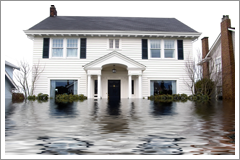 Our hearts go out to everyone dealing with the challenges and hardships of the after-math of Superstorm Sandy. Luckily, catastrophes like Sandy don't happen very often. When they do, the vivid lessons they offer help us understand just how devastating flooding can be to everyone affected, especially uninsured Home & Property Owners.
Lesson 1) Many property or home owners are unaware their multi-peril policies don't cover flood damage. This coverage is available through the Federal National Flood Insurance Plan or NFIP.
Lesson 2) Flood causing storms have been more frequent in recent years.
Global warming? La Nina? El Nino? Random luck? Although many debate the cause of the storms, wildfires and other catastrophic events occurring in recent years, almost everyone acknowledges they have been occurring more frequently and with greater severity.
Lesson 3) The Increased Cost of Compliance coverage provided by NFIP flood policies is especially crucial to the owners of older homes and commercial buildings.
It is very common for older buildings, those constructed before anyone gave much thought to how they might be damaged by flooding, to not be in compliance with the current building codes applicable to buildings located in the high hazard flood zones. When these buildings are damaged by more than 50% of their value, the cost of their repair
must also include the cost required to bring them into compliance with the current codes. The NFIP flood policies provide Increased Cost of Compliance coverage to help cover those costs.
Lesson 4) In many cases, Federal Disaster Assistance is not a good alternative to flood insurance.
As many Sandy victims are finding out, Federal Disaster Assistance is not always a good alternative to flood insurance. Even when FEMA is cleared to offer assistance, which generally only occurs following a major event like Sandy, there are strict limitations to the assistance it can offer. To name just a few;
Assistance is not available to seasonal/secondary homes, which many waterfront residences are
When assistance is available, much of it comes only in the form of a loan - a loan that has to be repaid, and a loan that a property owner must qualify as an acceptable financial risk to receive.
Lesson 5) Flood prevention methods such as levies or pumping systems do not eliminate the threat of flooding.
No levy or drainage system can prevent every flood event. In fact, most are only designed to prevent modest events, generally no more than a 100 year (or 1% probability event). So when a Sandy or even much less powerful storm event comes along, levies and other flood prevention measures are often overwhelmed.
We are available to answer your questions regarding Flood Insurance. Whether you live in Dacula, Suwanee, Hoschton, Buford, Lawrenceville or Atlanta you could be at risk for a flood. We would be happy to discuss your flood insurance needs. Contact us today!