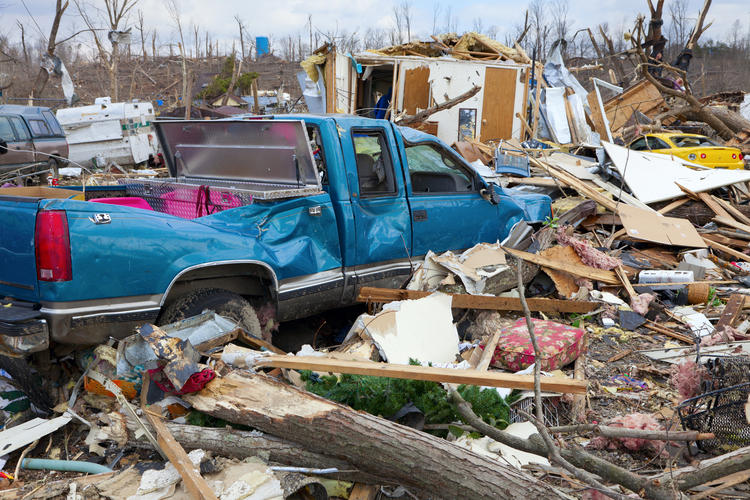 Springtime is here but arriving along with the blooms, warmer weather and pollen is tornado season. Across the United States, approximately 1,200 tornadoes occur each year. In the southeast, peak tornado season is March through May but tornadoes can still occur any time of year. That's why it's vital to be prepared all year round in the event of a twister.
Tornadoes should be taken seriously. Not only are they deadly but they can also appear without any warning. Here's how to prepare your family and your home in the event of a tornado.
What You Can Do Now
Decide on a designated tornado safe space. If your home has a basement, choose a space away from windows. If you don't have a basement, take shelter in a low-level, interior room without windows. If every room has a window, take shelter in a bathtub or under a stairwell and cover yourself with a mattress or heavy blankets. If you live in a mobile home, do not stay in it. Find a sturdy shelter nearby.
Create a first aid kit and store emergency supplies. Along with your first aid kit, store water, blankets, batteries, flashlights, a radio, food, medicine, sleeping bags and phone chargers in your designated safe space.
Organize important documents and store them in a safe location. Purchase a fire box or a safe to store your documents in your home. You may also choose to store important documents in a safe deposit box. Include items such as birth certificates, social security cards, passports, marriage licenses, property deeds, estate planning documents and vehicle titles.
Know the difference between a tornado watch and a tornado warning.

A tornado watch means that it's possible for a tornado to occur in your area. When a tornado watch is issued, you should stay vigilant and watch or listen to all updates until the tornado watch is lifted.
A tornado warning means a tornado is currently occurring. In the event of a tornado warning, seek shelter immediately.

Talk to your household about what to do in the event of a tornado. Every member of your household should know where to go if a tornado strikes, whether they're at home or not, and they should be informed ahead of time.
Reinforce garage doors and anchor sheds and trash cans. Sheds can be tied down with ground anchors and depending on where your shed is located, you may be able to anchor it to your home's foundation.
Make sure your belongings are covered on your home insurance policy. Talk to one of our agents today about your home insurance and make sure you have the proper coverage in place.
What You Can Do If a Severe Storm Is Headed Your Way
Bring your vehicles into your garage or move them to a sheltered place.
If you have a grill, bring it inside. If your grill is a gas grill, make sure the propane tank is off.
If you own a pool, remove all water toys, floats and robotic pool cleaners. Store them inside.
Bring all patio and outdoor furniture inside along with any potted plants. Don't forget wind-chimes, outdoor toys, lawn mowers and yard figurines.
Listen to your NOAA radio station for updates and alerts.