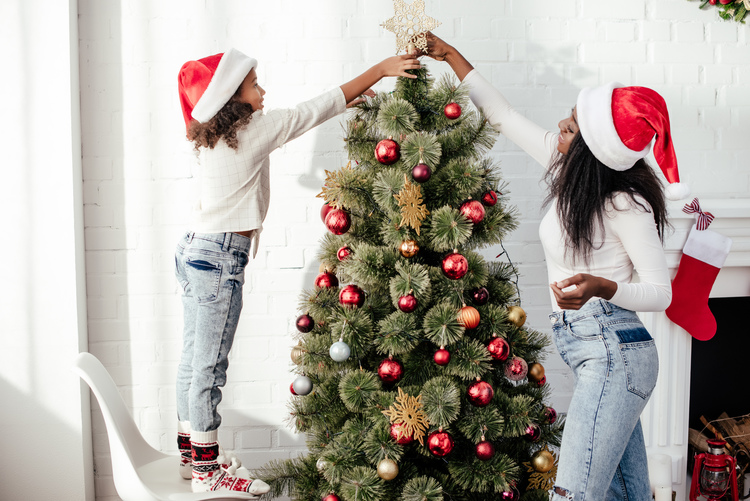 Decorating for the holidays can be a fun way to celebrate the season and get in the holiday spirit. While sparkling lights and decorations could put even Scrooge himself in a festive mood, it's important to be aware of holiday decorating safety to prevent fires, falls, power outages and injuries.

In 2017, approximately 18,100 people across America were treated for decorating-related injuries. The majority of injuries involved falls while decorating. Here are a few tips to keep your seasonal decorating experience disaster-free.

Inspect All Lights
Lights and decorations that are damaged can cause a fire or an electric shock. Look for damaged sockets, cracked lights and bare or frayed wires. If you discover any damaged decorations, throw them out and purchase new ones.
Only use lights that have certification marks such as UL, ETL and CSA. This means the lights have been tested and inspected for safety hazards.
Place Your Decorations Carefully
To avoid fires, place your tree away from fireplaces, candles, radiators and space heaters. Once you've found the perfect place for your tree, decorate the top of the tree with the most delicate, breakable and toxic ornaments to keep them away from pets and children. Keep clutter down, especially near heat sources, to prevent fires as well.
Make sure you use your lights properly by checking the color mark labels. Lights with red UL marks are safe to use indoors and outdoors while lights with green UL marks can only be used inside.
When using ladders and stools, make sure they are placed on level surfaces. Check the weight limit of the ladder before climbing on it with decorations. If possible, place all lights and decorations closer to the ground. Plug all outdoor decorations into GFCIs to prevent electric shock.
Once you're done decorating, set an automatic timer for your decorations. Make sure all decorations are turned off before you leave your home.
Prevent Electrical Overloads and Cord Damage
Before you begin decorating, consider placing your decorations in low-traffic areas and spreading them out using several outlets. Always use caution when plugging decorations into extension cords and outlets. Make sure you use the proper extension cords, so you don't overload your outlets.
Be mindful of where you run extension cords. Not only can this prevent falls, but it can also prevent cord damage. To protect hanging lights from cord damage, use hooks instead of nails and tacks.
Check the Forecast
Plan your outdoor decorating with the weather in mind. If it's snowing, icy, raining, windy or cold, hold off on decorating. A clear day will not only make your task easier but safer.
When there is precipitation, it becomes more dangerous to be on a ladder or step stool. Even when the weather is clear, ladders are still fall hazards so consider using decorations that don't require you to use a ladder. Precipitation also increases your risk of electrocution.
Buy a Healthy Tree and Care for It Properly
No one wants to look at a withered Christmas tree. A healthy tree has needles that do not snap when bent and resist being pulled. The base of the trunk should have resin on it and be sticky to the touch. When shaken, trees that are healthy should not lose many needles.
If you buy a real tree, make sure you water it frequently to keep it fresh. Check the water level daily. Dry trees burn faster and are a fire hazard.
Clean Up
After decorating, you may want to sit by the fire and relax with a cup of cocoa while taking in all of your hard work. However, before you get settled, it's important to clean up. Sweep up any ornament hooks, pine needles and glass to prevent injury to you, your family and pets. Clean up all cords to prevent trip and fall accidents.