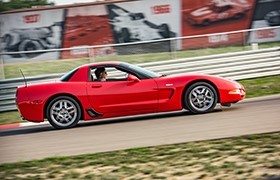 The Corvette has always exemplified affordability and availability. Since 1953 it has been America's sports car—and the everyman's sports car. That's as true today as it was in 1962. Chevy has pumped out just over 1.5 million

Corvettes in the last seven decades, which makes owning a desirable example for less than $20,000 very possible in 2018. Hagerty® has compiled their picks for the five best Corvettes available for less than $20k.
2001-04 Corvette Z06
Z06s have already begun to appreciate, with values rising nearly 10 percent in the last three years. With an average value of $22,000, there are plenty out there selling for less than 20 grand.
In 2001, Chevy introduced the Z06, a high-performance variant of the fifth-generation Corvette, with sticky tires, a re-tuned suspension, and a 385-hp version of the 5.7-liter LS V-8 with a titanium exhaust system dubbed the LS6. In 2002, the horsepower rose to 405 and torque from 385 lb-ft to 400, and the engine maintained those performance numbers until production ended in 2005. These cars all received a six-speed manual transmission and a unique Fixed Roof Coupe body style, and they cost about $50,000 each when new.
They were also fast. A well-driven Z06 can accelerate from 0–60 mph in 4.0 seconds and cover a quarter mile in 12.4 seconds. More than a decade later, that's still plenty quick, and it matches the acceleration of a new Shelby GT350 Mustang.
1990-95 Corvette ZR-1

These cars continue to depreciate despite being the most powerful C4 Corvette ever and the only Corvette ever sold with a double-overhead cam engine... despite the fact that they were unbelievably quick in their day, running the quarter mile deep in the 12s and outrunning nearly every European exotic built at the time... and despite winning every comparison test the buff books could dream up. Values have dipped nearly 10 percent in the last three years, making the C4 ZR-1 an incredible value.
Chevy built 6939 ZR-1 Corvettes from 1990–95. When the model debuted, it was the quickest American production car of all time. The all-aluminum 32-valve 5.7-liter LT5 V-8 was rated 375 hp at 6000 rpm and 370 lb-ft of torque at 4800 rpm. These were huge numbers at a time when the standard Corvette was rated 245 hp. In 1993, Chevy increased those ratings to 405 hp and 385 lb-ft.
The rub on these cars is that they don't look different enough from a standard C4. Also, parts availability is always in question. But their significance and performance has to come into play eventually and turn their prices skyward. Until then, ZR-1 sales average around $20,000, and we just saw a red '90 model with both tops sell for $16,500 (with premium) at the Barrett-Jackson Northeast auction. They cost about $70,000 when new.
1987-91 Callaway Corvette

Check the box and Chevy sent your new Corvette to Callaway Engineering in Connecticut, where the car's 5.7-liter V-8 was fortified with two-turbochargers and a couple of intercoolers. Power surged from 245 hp to 345 hp, and there was nothing more badass at the time than the two NACA ducts carved into a Callaway's hood. That year Chevy built 36,632 Corvettes, but only 123 Coupes and 65 Convertibles became Callaways. This arrangement lasted until 1991, with power jumping to 382 hp in 1988, to 390 hp in 1990, to 403 hp in the final year.
Despite their rarity, average values range from $17,600 for the 1987 coupe to $26,600 for the 1991 convertible. And we just watched a very clean 1987 coupe sell at the BarrettJackson Northeast auction for $20,900 (including fees).
1978 Corvette Indy Pace Car
These Indianapolis 500 Pace Cars were supposed to make a lot of people a lot of money. It hasn't worked out that way.
It's hard to believe, but the 1978 Corvette was the first to pace Indy. It was a big deal and coincided with the sports car's 25th anniversary. The black-over-silver paint scheme was a hit, and the demand for replicas was high. Chevy ultimately built 6502 of them. These cars were thought to be instant collectables, and many were bought and put away, their owners looking for a big pay day. It never came.
Although Pace Cars have always demanded a considerable premium over a standard 1978 Corvette, values were flat forever. But they began to rise considerably about four years ago. These disco Corvettes look better with every passing year, but there has been a value dip more recently, and they can still be bought for less than $20,000.
Chevy offered a choice of two 350-cubic-inch V-8 engines, the standard 185-hp L48 or the more desirable 220-hp L82. Both could be backed by a three-speed automatic or a fourspeed manual. It should come as no surprise that L82 four-speed cars are more sought after with an average value of $26,600, while the L48-powered cars sell for an average of $23,000. With the very best examples selling for more than $75,000, now's the time to buy one in #3 (Good) or #4 (Fair) condition and drive the wheels off it.
1973 Corvette 454
When it comes to a classic Corvette, —one with investment potential—we looked back a few years and landed in 1973. For many, '73 is a forgotten year for the Corvette, as it's a one-year-only bodystyle. Chevy replaced the entire front clip, losing the car's chrome front bumpers. The rear end wouldn't go plastic until 1974, however, and catalytic converters were still two years away, so there was still some power under the hood.
It wasn't the final year for the big-block engine, but 1973 was the last year that combined the 454-cubic-inch V-8 with chrome bumpers. And don't let the LS4 big-block's 275-hp rating fool you. In 1972, the ratings system switched from gross power to net power, and the power numbers dropped considerably across the industry. In 1971, a very similar 454 was rated 365 hp. Plus, its 8.5:1 compression ratio means it'll run great on today's pump gas.
Coupes (all were T-tops) and convertibles were offered and the vast majority were sold with the two available 350 small-blocks, due to rising insurance premiums and, of course, the oil embargo. The big-block was offered with a three-speed automatic or a four-speed manual, and air conditioning was an option.
Average price for a '73 coupe with the 454 is just $16,800, while the much rarer convertibles are worth an average of $24,900. Small-block cars are even cheaper.
Contact us for more information about insuring your classic collector vehicles.