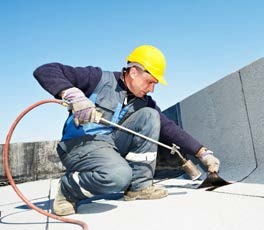 Storm season can be any time of the year in the southeast. Most of us either own a home or have owned a home, so we're used to walking the property after a major storm to look for damage, usually to the roof or siding.

Business structures are no different. Post-storm property inspections are important for businesses as well, as they provide an opportunity to quickly identify any immediate damage that may be present. The last thing a business owner wants to discover is that the small amount of damage to their roof from a storm six months ago has now resulted in a large amount of water damage to the interior of their building.
However, commercial roofs are often overlooked after a storm. Unlike most homes, which have pitched asphalt shingled roofs, many businesses have flat roofs that are not easily viewed from the ground. It is important to physically inspect flat roofs, with particular attention paid to the following:
Pooling or standing water: While called a flat roof, a flat roof should have a slight degree of pitch that allows water to properly run off to designated drains. Make sure that the drains are clear of any debris and are functioning properly. If large amounts of pooling water is observed away from drains, a qualified roofing contractor should be contacted.
Rips/tears/bubbling/cracking of the membrane: The top layer of a flat roof is made of a membrane that is designed to act as a barrier to keep water out. When this layer fails, it allows for potential water intrusion.
Gravel or rock (ballast) has been blown into piles: Some flat roofs contain a layer of gravel or rock on them that is known as ballast. This ballast serves to prevent the roof from sustaining hail damage, as well as keeping it adhered to the building. Strong winds can blow the ballast material into piles, which greatly reduces the effectiveness of both protection and adherence. A rake can be used to redistribute the ballast evenly over the roof.
The ultimate goal in inspecting your commercial property after a storm is to identify any immediate damage and to quickly repair the property, reducing further damage.

Contact us for a free Commercial Property Insurance or Commercial General Liability Insurance quote for your Georgia business.