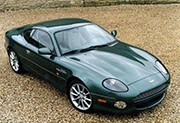 British car values have generally been flatter than other segments of the car market. That's a shame, because there are quite a few English vehicles out there that are rare, gorgeous, fast, interesting, or a combination of all four yet remain temptingly cheap compared to some of their rivals.
Here are 10 British cars that Hagerty® think really could be worth more in the future.

1978-81 Triumph TR8 - Hagerty Price Guide value: $4100-$23,500
The TR8 has a lot going for it in terms of rarity and performance, and the availability of eye catching colors and plaid seats make up at least a little bit for the exterior styling. If you want a British sports car with a (relatively) big V-8 on a budget, there aren't really any other places to turn. Thankfully, the TR8 still usually goes for a number that most enthusiasts can afford.


1973-77 TVR 2500M - Hagerty Price Guide value: $8900-$33,200
The 2500M is an immensely fun car to drive with sharp, direct steering as well as a great noise (though not a ton of power) coming from the Triumph six up front. And even though the eccentricities and exclusivity of old TVRs have attracted some attention in recent years with prices rising significantly, their current values still seem like a bargain considering the rarity and performance.


1982-87 TVR 280i - Hagerty Price Guide value: $5200-$15,500
The 280i was actually the last TVR imported to the United States. Despite its low volume production and solid performance as well as the rising interest in earlier TVRs, the "wedge series" models remain seriously affordable compared to other cars with similar performance of the period. They are currently the most affordable cars with a TVR badge.


1946-52 Bentley Mk VI - Hagerty Price Guide value: $18,700-$65,300
Coachbuilt cars are another story when it comes to prices, but the standard steel Bentley Mk VI represents a serious value when it comes to classic hand-built English luxury magnificence. If you can find one free of rust with good leather and wood, it won't cost as much to keep up with as you might think, and the purchase price will be considerably less than many other mechanically similar Bentleys or Rolls-Royces of the period.


1966-73 Triumph GT6 - Hagerty Price Guide value: $4400-$19,500
Meant to take on the MGB GT, the GT6 is both quicker and better looking. Its engine is smoother, has two more cylinders, and makes a better sound, and because the GT6 didn't sell all that well in period (about 41,000 total) it's also considerably more rare.
1976 Jensen GT - Hagerty Price Guide value: $3000-$16,500
Jensen's last hurrah was the GT, which the company hoped would combine the sportiness of the Jensen-Healey with the refinement of the Interceptor thanks to a walnut dash, power windows, air conditioning and optional Connolly leather. The hand-built GT cost about 10 grand at a time when a Datsun 280Z set you back $6600 and a Corvette could be had for $7600.


1997-03 Aston Martin DB7 - Hagerty Price Guide value: $19,200-$63,500
Yes, it will savage your bank account with every trip to the shop, and yes, the interior has some dated Ford switchgear, but the DB7 currently trades at prices that would otherwise buy you a new Mustang or Camaro and that's worth noting. The Ian Callum penned, sheet metal looks a lot less dated than the interior, so the DB7 looks way more expensive than it is.


1961-66 Jaguar Mk X - Hagerty Price Guide value: $7200-$31,500
The Mk X is a huge car with room for six adults, and were it not for the badge on the steering wheel, occupants could be fooled into thinking they were in a Rolls thanks to a forest's worth of wood and fold-out tables in the back. Despite the style, performance and luxury, Mk X values are still in entry-level classic territory and have stayed there for some time.


1967-74 Lotus Elan Plus 2 - Hagerty Price Guide value: $9100-$33,900
The four-seater version cost nearly as much as an E-Type when it was new, but in the collector car market the two-seater is the iconic one and it will always be more valuable. If you can sacrifice a little performance and style, the Elan Plus 2 is a tempting value, especially when you compare it to E-Types and Porsche 911s of this vintage.


1990-93 Lotus Esprit Turbo SE - Hagerty Price Guide value: $15,700-$44,800
With 264 horsepower on tap, the car is quick (0–60 mph in less than five seconds) and of course it has the outrageous styling, light weight, and handling that had already made the Esprit famous. When it was new, the Turbo SE was a solid value compared against other higher end performance cars and it's the same story when it comes to the collector market today.