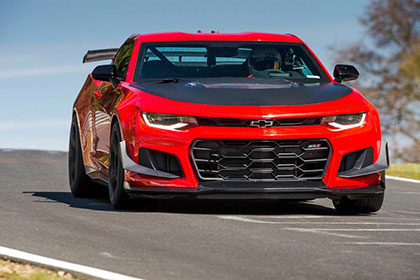 These 10 vehicles from mass-production, mainstream automakers not only stand a good chance of maintaining strong value, but they also are likely to remain desirable over the long term in the eyes of collectors and enthusiasts. "Every year, we look to identify vehicles that push boundaries and beg to be driven," says McKeel Hagerty, CEO, Hagerty. "This list is proof that people still love sitting in the driver's seat, putting their hands on the wheel, and enjoying the experience of driving."
To be considered for the 2018 Hagerty Hot List, a vehicle must be offered for the 2018 model year and bear an MSRP of less than $100,000. The list below is presented in alphabetical order, not ranking.
Audi RS 3 ($54,900) – Perhaps one of the best sleepers out there, the RS 3 will do 0–60 in under four seconds, snapping off quick shifts from its seven-speed dual-clutch transmission. With all-wheel drive and a lively, yet forgiving chassis, the RS 3 is a tasteful tribute to punching above your weight.
Dodge Challenger SRT Demon ($84,995) – Straight from the factory, Dodge will sell you a street-legal surface-to-surface missile on four wheels that is capable of quarter-miles in the 9s at 140 mph. Boasting 840 horses and 100-octane gas, the Demon is built for the drag strip, plain and simple. With your foot to the floor, all you'll be able to hear is the shriek of the supercharged V-8 as your brain overloads on acceleration-induced dopamine.
Honda Civic Type R ($34,100) – Years into the future, this will be the car that people point to as Honda's return to excellence. After years of settling with the Civic Si, the Civic Type R is now available in the U.S. for the first time. The long-lusted-after Type R puts out a healthy 306 hp from its turbocharged inline-four, and its razor-sharp chassis and prodigious grip justify its cartoon-teenage-angst styling.
Jeep Grand Cherokee Trackhawk ($86,000) – Not only is the Jeep the vehicle you'd least expect to be packing one of the most burly V-8s in production (707-horsepower), it also has the traction to get it off the line and leave even a Dodge Challenger Hellcat in its wake. Believe it or not, the Grand Cherokee is also fun on a road course, proving that Jeep knows about more than just solid axles and lockers.
Jeep Wrangler ($26,995) – Right now there is no other vehicle in its price range can come close to its off-road prowess. An entry-level Wrangler comes with more capability than the average SUV buyer would need. If history is any indication, this new JL-generation Wrangler will stay in demand for the long haul, despite high production numbers.
Kia Stinger GT ($38,350) – The Stinger GT has the looks, performance chops, and value that are forcing other automakers to start taking Kia seriously. Even with its 365-hp twinturbo V-6, svelte liftback body, and sultry nappa leather interior, the Stinger is an underdog, but one nobody should count out.
Lexus LC 500 ($92,000) – The LC packs a snarling 5.0-liter V-8 in a class of smallerdisplacement turbo engines. Packed with available high-end tech including active rear steering, this is a V-8 luxury spaceship for grand touring in style. It's without a doubt the most exciting thing to come from Lexus since the LFA.
Porsche 718 Cayman/Boxster GTS ($79,800/$81,900) – The GTS package brings them almost into Porsche 911 territory, but it's worth it. The 365-horsepower turbocharged engine is mid-mounted, in front of the rear wheels, for a totally different experience than the 911. The GTS has long been seen as the sweet spot when it comes to Porsche packages, one that will stay special through the years.
Subaru WRX STI Type RA ($48,995) – Those last two letters stand for Record Attempt— an homage to the 2017 Nürburgring run for a lap record for a four-door sedan. The 500-car limited-edition Type RA is 51 pounds lighter than a standard STI, five horsepower more powerful, features more durable engine internals, STI-tuned Bilstein dampers, and has a shorter third-gear ratio. Down the road, fans will cough up serious cheddar for a taste of the Type RA.