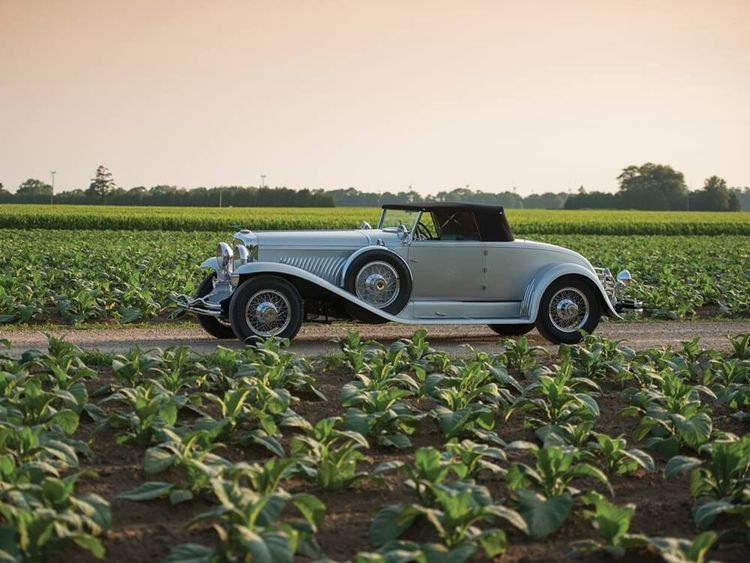 The collector car market was split in 2017. Hagerty's list of the highest auction sale prices for American cars is evenly divided between massive, open-top prewar machines and lithe postwar sports cars. Here are five American cars that broke the million-dollar barrier last year.

5. 1948 Tucker 48, RM Sotheby's Arizona: $1,347,500 (including premium)
Hagerty Price Guide: $1,150,000–$2,000,000
With a focus on safety and efficiency, Preston Tucker's quirky three-eyed creation was ahead of its time. The fact that only 51 Tucker 48s were built makes them rare, but the constant production changes during that short one-year run mean each Tucker 48 is unique. This was the 44th car built and showed fewer than 8,000 original miles.
4. 1929 Duesenberg Model J Convertible Coupe, RM Sotheby's Monterey: $1,430,000 (including premium)
Hagerty Price Guide: N/A
This lovely, roadworthy J benefited from a concours-winning restoration in 2007. The desirable coachwork was once fitted to the Model J owned by chewing gum magnate Philip K. Wrigley, before he and this car's original owner—who coveted the coachwork of Wrigley's J—traded bodies.

3. 1935 Duesenberg Model J Cabriolet, RM Sotheby's Hershey: $1,485,000 (including premium) Hagerty Price Guide: N/A
Belgian coachbuilders D'leteren built the elegant, athletic bodywork atop this Model J's chassis, marking the last standard Model J to be shipped to Europe for a bespoke body. The latest restoration included new paint for the original frame, engine, firewall, and body as well as Marchal headlamps, which are correct for European-delivery Duesenbergs.
2. 1967 Chevrolet Corvette L88 Convertible, Worldwide Scottsdale: $1,980,000 (including premium)
Hagerty Price Guide: $1,850,000 – $3,250,000
Just 10 L88 convertibles were built for 1967, and only one in Silver Pearl. Combine what is arguably the most beautiful Corvette generation with the most potent engine available at the time, and you've got a recipe for a valuable Bowtie.
1. 1933 Duesenberg Model SJ LaGrande Phaeton, RM Sotheby's Auburn Fall: $2,300,000 (including premium
Hagerty Price Guide: N/A
Truly one of a kind, this long-wheelbase model has a folding windshield on its second cowl that gives rear-seat occupants the choice of adding a bit of wind protection, a feature absent on the rest of the
"sweep panel" phaetons built by Duesenberg's in-house coachbuilder. After spending decades naturally aspirated, the engine was returned to its original supercharged configuration in 1979.
We can help you insure your Classic or Antique truck or cars with Hagerty. Contact us today!