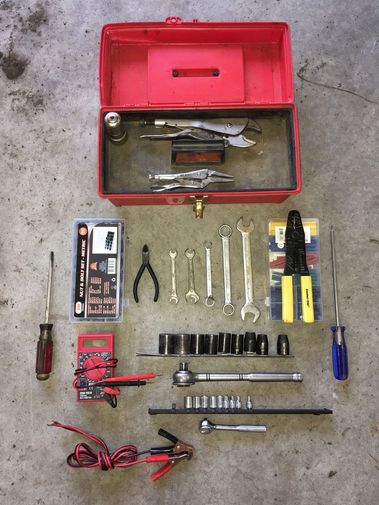 Vintage cars are not like daily drivers, and there's no sense in pretending that they are. Something always needs to be fixed or, at a bare minimum, tightened.
But which tools? Now, there's the rub. It really does depend on how far you're driving. Our friends at Hagerty® have developed a suggested go-to toolbox for trips of around 100 miles, and it contains:
• A set of the most commonly-used box-end wrenches.
• Ratchets and sockets, both big and small.
• A slotted screwdriver and Phillips screwdriver.
• Regular pliers and needle-nosed pliers (vise grips are best).
• A battery terminal cleaner.
• A multimeter.
• An inexpensive electrical kit with a crimping tool and an assortment of butt splices and spade connectors.
• A pair of wire cutters, since the wire cutters on crimping tools always stink.
• A pair of 6-foot lengths of 14-gauge wire, each with a battery charger-sized alligator clip on one end that can bite onto the battery terminal.
• A 20-foot, 14-gauge lamp cord (two-conductor wire) than can be cut and spliced as needed.
• An inexpensive set of metric nuts and bolts.
• A pack of zip ties.
For these road trips, pack the toolbox, plus either a set of jumper cables or a battery jump pack, and a cigarette-lighter-powered air compressor to inflate tires.
We are proud to represent Hagerty Insurance. Call us today if we can help you cover your Georgia classic or antique auto.