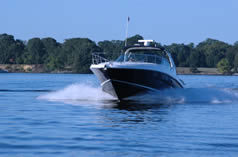 With summer upon us, friends and family will soon begin seeking relief from the notorious Georgia heat at their favorite lakes, the Atlantic and neighborhood pools. Boating is a popular activity for families and friends, especially across Georgia. Lakes such as Lake Lanier, Lake Hartwell and Lake Sinclair quickly fill up with the masses once schools let out, with Memorial Day marking the beginning of Georgia's boating season.

Before setting off tubing, fishing or lazing around in the summer sun on your boat, consider getting Georgia Boat Insurance, for you and your family's security.
According to numbers reported by the U.S. Coast Guard, in 2015, there were 4,158 boating accidents accounted for resulting 626 deaths and 2,613 injuries. Boating accidents are becoming more common as patrons crowd lakes each year.
While it is important to boat while sober and have all passengers wear lifejackets, in the event of an accident, insurance can protect you and your family financially. If you have a boat or personal watercraft, you can purchase insurance coverage for wear and tear of your boat, weather damage, and medical and personal effects coverage as well as towing coverage in case of a break down on the water.
There are many types of coverage and add-ons, depending on each individual's needs. Before hitting the water at Lake Lanier, contact us for your Georgia boating insurance quote today!
Sources:
http://www.uscgboating.org/library/accident-statistics/Recreational-Boating-Statistics-2015.pdf