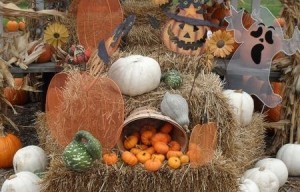 Halloween is one of the most fun holidays of the year for children of all ages. But it also can be deadly. Did you know that on average, children are more than twice as likely to be hit by a car and killed on Halloween than on any other day of the year? That's why we'd like to share these important safety tips designed to help your family have a safe and happy Halloween.
Let there be light. Use flashlights, reflective materials and glow sticks so you and your children are easily seen by vehicles. Flashlights also can help prevent another common type of Halloween accident — tripping and falling — by illuminating where you're walking.
Select a safe mask. Look for masks with large eyeholes so visibility is not impeded. Some costume masks impede peripheral vision. Be sure to avoid those when choosing your child's costume. Make sure the costume doesn't impede motion.
Stay with your children. Do not allow your child to go off on his own, particularly when accompanied by a large number of older children. For children in their early teens, it's still a good idea for a parent to tag along.
Accept candy only from who you know. Examine all candy when your children get home from trick-or-treating. Avoid eating handmade treats offered by strangers.
More Halloween safety tips from the American Academy of Pediatrics are here.
We hope everyone has a safe and fun time during all of the North Georgia fall festivals! Check out our blog on a regular basis during the year for other safety tips.