Take a moment and think about your family and what you might do if your income stopped tomorrow. Would you be able to pay for your son's field trip or your daughter's dance classes and still make your house payment? How far would your savings go to cover your family's expenses?
Consider these important facts:
Almost one third of Americans entering the work force today will become disabled before they retire.*
In 2013, 66.5% of Social Security disability applications were denied.*
Employers' workers' compensation coverage is provided only if you become sick or injured from job-related causes.
How will you minimize the impact of a disability on your family? A disability income insurance policy can protect you from having to make sacrifices in order to fulfill all of your financial obligations.
Contact our office to discuss options to help protect your income in the event that you are disabled. Contact us now for a free Georgia Disability Insurance Quote at (770) 339-0447 or send us a message: email [at] cowartinsurance [dot] com
A great non-profit resource is Life Happens.Org - Life insurance Calculator
Click here to request a free disability insurance quote today!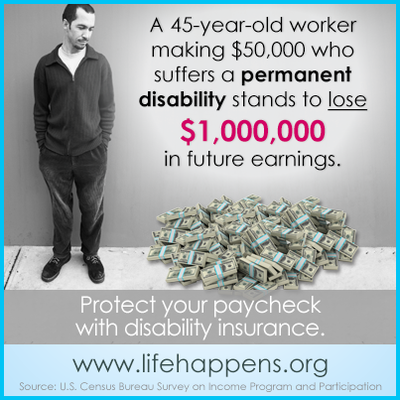 *Social Security Administration