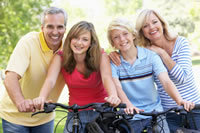 Do you think life insurance is just for married couples with kids? Think again. Here are five reasons for why you might want to buy a life insurance policy:
You have student loans. Even though some student loans will be forgiven upon death, privately held and co-signed ones usually aren't forgiven. If you had someone co-sign with you, it is essential to purchase a life insurance policy and list the co-signer as the beneficiary.
You're a stay-at-home parent. You've decided to give up your career, at least for now, to be head housekeeper, chef, chauffeur and tutor to your kids. A great decision for the family, but not so much financially if you were to pass on. You provide valuable services to your family, and if you died and your partner had to hire help, the payout from a life insurance policy would really come in handy.
You're married without kids. Whether or not kids are in your plans, a Life Insurance policy is necessary if you have debt. This is especially the case if you have joint debt with your spouse. You can make sure they can pay off debt and not have to deal with collectors during their emotional healing process.
You're a small business owner. Will your business be okay if you're not around to run it? If not, make sure you have a life insurance policy in place so the business stays on its feet. Also, make sure to have your business partners purchase Life Insurance so the Business would survive.
You have a disabled child. Ensure that your child with a disability isn't a financial burden on her siblings when you're gone by purchasing a policy and listing the caregiver-to-be as the beneficiary. Get assistance from your attorney so that this info is placed in your will so that it gets used appropriately.
Contact us at Cowart Insurance today if you want more facts about Life Insurance. We are happy to help answer any questions that you may have regarding Life Insurance. The Life Insurance quote is free. What do you have to loose except your peace of mind?