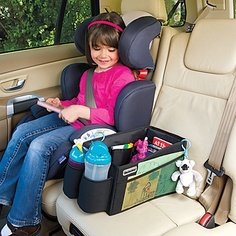 Car Safety Tips for Your Children
Owning and operating a car is a big responsibility. This is only heightened when you have children along for the ride. Making sure their needs are met and that you pay attention to the road is crucial to their safety and your own while traveling. It is very important to create a child friendly car or mini-van so that your family can avoid having a car accident.
No matter the size, age, or model of your car, keeping it maintained can help in preventing accidents. Check your car or SUVs manual to see what your manufacturer recommends for scheduled maintenance. It is also a good idea to check the amount of tread on your tires and if they are properly inflated. The recommended tire pressure is usually printed on the inside of the drivers door of your vehicle.
Here are some tips to follow for a safe, calm trip:
Never place a rear-facing infant seat in front of the air bag.
Research to see if your child meets the height or weight limit of their safety seat, whether rear or forward facing.
Get your childs safety seat checked by a professional. This is especially important if it is an older model or if it was used by older siblings.
It is always safer for children to ride in the back seat of your car or SUV. Many states, including Georgia, have laws regarding how old your child has to be to sit in the front seat; some states even have a weight requirement.
A seatbelt must be worn during every car trip.
Kids should never share seatbelts.
Have your family understand the importance of staying calm in the back seat to reduce distractions while you are driving your car, truck or SUV.
Consider having your kids use headphones when they are using their electronic devices.
Consider packing a cooler full of kid friendly snacks to prevent hungry tummys when traveling.
Whether you are traveling from Buford, Dacula, Suwanee, Hoschton, Braselton, Grayson, Winder or Loganville it is a good idea to plan ahead to ensure a safe trip. No matter what car you child is riding in, whether yours or a friend's, make sure they follow the rules for safety!
All of us at, Cowart Insurance Agency hope you enjoy your next road trip! Let us know if we can assist you with an auto insurance check up before your next vacation.