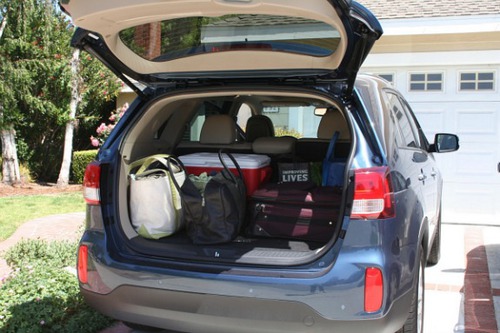 Are you thinking about road tripping? Your family may enjoy the open road and some quality time together, but first things first. Packing all of your suitcases and other essentials in your car or SUV is what makes your trip a reality. But do you know how to pack the trunk safely so no accidents or mishaps occur?
When you are spending long hours on the road, the last thing you want to happen is an injury or accident due to shoving everything in your trunk of your car. Making sure you organize everything beforehand can make your trip a success. Here are some tips to follow to ensure safe travels:
All car trunks come in different shapes and sizes. This is why you should have a packing strategy. Look at it like a puzzle. Review your packing checklist, and then pack the car methodically, beginning with larger items. When you are finished, there should be very few gaps and holes.
If you are packing for a trip in a SUV make sure that you do not have small items that can become projectiles if you have to brake suddenly on the top of your luggage in the back of your vehicle.
Stuff sliding around or tipping over can be a big distraction. This is why making sure everything is secure is so important to avoiding accidents. Make sure that you secure loose items that are in the passenger compartment of your SUV or mini-van.
When the packing is done, sit in the driver's seat to check if you can see out the back. If not, make adjustments.
Make sure to pack the essentials. If you have packed the car as efficiently, you shouldn't forget anything.
If there is not enough room in the trunk, purchase a roof top carrier for extra space. Make sure to fasten the car carrier on tightly so it doesn't fall off while on the highway.
You may want to consider purchasing a trailer if you need a lot of extra storage. Be sure to hitch it on tightly and follow the trailer manufacturer's instructions to insure a safe trip.
When going to a rest stop, you will leave everything in your trunk. Make sure to lock all the doors and close your windows when exiting your car or truck so nothing gets stolen.
At Cowart Insurance Agency, we hope these packing tips help you have a great road trip! No matter what season you decide to travel, it is important to put safety first. If you are concerned about what you may face on the open road, secure car insurance from us. We can help you protect your car and loved ones in case of a covered accident or injury. Our agents work with all our Buford, Dacula, Suwanee, Hoschton, Braselton, Grayson, Winder, Loganville and Atlanta neighbors to provide friendly service to help you choose the insurance that is the best fit for your family's needs.