---
There's nothing like cruising down the open road on your motorcycle – the wind in your hair and a few bugs in your teeth.
Before you hit the highways this season, make sure your insurance policy is up to speed so that you and your bike are protected. Whether you are biking in Dawson, Ellijay, Blue Ridge or the Metro Atlanta area we've got you covered.
Update your policy. Let your insurance company know about any changes like additional riders, a new address or customized parts. A quick call to our office can secure coverage that meets your needs.
Cover customized parts. Parts such as chrome plating, a new paint job, saddlebags or special rims usually increase the value of your bike. If you've added custom parts or equipment, make sure they're protected.
If you don't need it, drop it. If you own an older bike, check its value. Don't pay for coverage that you don't need. Consider dropping collision coverage if the premium equals 10 percent of the bike's market value. Understand, however, that you won't be covered if your bike overturns or collides with another object.

Shop around. Prices can vary from company to company; we represent several insurance carriers that write motorcycle coverage. We can help you shop around with just one phone call.
Raising your deductibles could save you money. Consider raising your deductibles on your comprehensive and collision coverage. This can lower the cost of your physical damage coverage.
Take a Safety Course. Many companies give discounts for approved Safety courses. If you have a course in mind, call our office to see if it is on the list of approved list of courses that provide this discount.
We look forward to hearing from you regarding your Motorcycle Insurance requirements.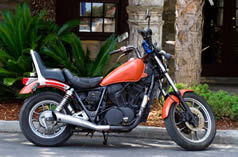 ---